The Unique Bridal Experience
Since 1983, Unique Bridal has been serving Michigan brides with Personalized Service and Great Selection. A family owned and operated business located in the heart of the Tri-Cities, we are easy to reach and convenient for your whole wedding party. We offer one of the Largest Selections and Quality Designer Wedding Gowns North of Detroit, with beautiful silhouettes to fit any bride's vision for her special day. Traditional, modern, boho– we have it all in exquisite fabrics and laces.
Unique Bridal proudly carries the best selection of plus-size gowns in the Great Lakes Bay Region in addition to:
Bridesmaids Dresses

Flowergirls Dresses

Suits & Tuxedos

Mothers' Dresses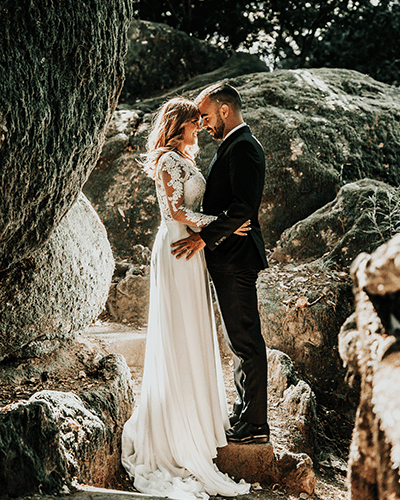 Experienced
Serving the Great Lakes Bay Region since 1983.
Family-Owned
Owned and operated by the same family since the beginning.
Wide Selection
We cary a variety of styles for every Unique Bride, from classical elegance to contemporary chic and every shade in between.
Frequently Asked Questions
What is the price range of your gowns?
Our gowns range from $870 – $3,000. The majority of our gowns are around $1,200 – $1,500. If you have specific questions regarding a designer's price range, we will be happy to discuss this at your appointment, via email or phone. We also have a selection of gowns that are no longer orderable at discounted prices in our sale room.
Can I Bring a Large Party To My Appointment?
We want your appointment at Unique Bridal to be a memory-making experience. Our bridal area will comfortably accommodate brides with only one or two friends or family. We will try our best to accommodate brides with larger groups as well. When making your appointment, please let us know how many guests you are expecting.
What should I expect in the fitting room?
Our stylists will join you in the fitting room to help you in and out of the gowns. Feel free to wear Spanx! They are great for foundational support and help the gowns to slide right on. You may wear whatever makes you comfortable underneath the gowns, but we do require underwear.
How should I prepare for my appointment?
If you have been browsing on Pinterest, we'd love to see your board to help guide your shopping experience. Visit our Pinterest Page to shop our inventory!
How long are appointments?
Appointments are 90 minutes long so you can enjoy yourself and not feel rushed. You have your own private stylist solely dedicated to help you find your dream wedding dress!
Do I need an appointment?
During COVID-19, you will need to have an appointment. Saturdays are usually very busy and we cannot accommodate many people. If you want to bring more than a couple of people, a weekday is recommended. Having an appointment will make sure that you have a bridal fitting room for trying on dresses and a stylist all to yourself. We recommend calling ahead to book an appointment. You can schedule an appointment by calling our boutique (989) 662-7458 , e-mail us at hello@uniquebridal.com, or use the appointment feature on this website.
What should I bring to my appointment?
You may wear whatever makes you comfortable underneath the gowns, but we do require underwear. If you have a strapless bra, go ahead and bring it with you. In order not to damage the gowns, our stylists will join you in the fitting room to help you in and out of the gowns.
Do you have plus size samples?
We are proud to offer a wide variety of samples for the curvy bride! We have a complete plus size wedding dress collection with over 50 gowns in sizes 20-34.
What sizes are your bridal gown samples?
Our samples range from size 8 to size 30, with the majority of the sample gowns between sizes 10-14. If the sample gown is too small or too large, we clip the dress to fit your body. Please keep in mind that bridal sizes are different from everyday clothing. Typically bridal gowns run 1-2 sizes smaller than your average dress size.
When should I choose my veil and other accessories?
Accessories are the icing on the cake. Our stylists are very experienced at pulling together your whole look during your bridal gown appointment. Often, seeing the whole ensemble together helps the bride say "Yes, this is my dress!" Of course, you're always welcomed back if you need more time to make your final decision. Keep in mind, some accessories are special order too, and while they don't usually take as much time as a wedding gown, it can be several weeks.
Do you do fittings in your shop?
We do not offer alterations in our store, but can recommend a bridal seamstress that will be sure to get you a perfect fit! We don't have any required alterations packages, which means you only pay for what you need to have done to make your gown fit like a glove.
Will I need alterations?
We like to order the dress as close to your current size as possible, but all bridal gowns need alterations to give it a perfect fit for your body. Before picking up the gown you purchase at Unique Bridal, we suggest you contact a seamstress to schedule your appointment to start the fitting process. Unique Bridal has recommended bridal seamstresses so contact us for a referral. We recommend starting your alterations two months prior to the wedding date, so make sure to add this time onto the four to six months for gown production.
When I find my gown, do I need a deposit to order the gown?
We require a 50% deposit to place your order. Once your order is submitted, no changes or cancellations can be made since all orders custom. The remaining 50% is due upon gown arrival.
What is a sample sale?
A sample sale is when a boutique sells their gowns "off the rack". These are gowns that have been tried on in the boutique. It is a chance to get a designer gown at a fraction of retail cost. While there may be some marks or damage to the gowns, we do take as much care as possible with our samples, so most will be in pretty good condition.
What is an in-store event?
An in-store event, simply put, is the ultimate personal shopping experience. On the day of the event, Unique Bridal will showcase the newest wedding dresses from a specific designer. A bride can schedule an appointment to see and try on. At in-store events, whatever designer is being showcased will offer a discount on gowns ordered during the event.
What is a trunk show?
Unique Bridal carries an edited selection of each designer's collection. Trunk shows are a designated time where we will have an extended selection of a particular designer. The trunk shows only last a couple of days, and appointments fill up quickly, so we recommend you book early if one of your favorite designers will be visiting and you want to be able to shop the whole line. Discounts apply on trunk show merchandise during the trunk show dates only.